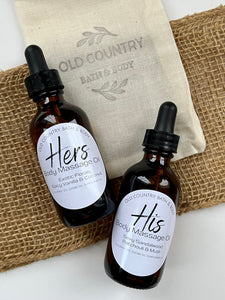 Better Together Body Massage Oil
Keep the date night going by having a couples massage....à la maison! 

The "Better Together" massage oil collection features a smooth and exotic massage oil for her and a sexy, dark and musky massage oil for him. If the two scents should happened to merge together, you will not be disappointment with the heavenly aroma. 
Made with skin loving oils.  Coconut oil, jojoba oil, castor oil, glycerin for moisture retention and sunflower oil. Also paraben free fragrance oils. 

These oils can also be used after a bath for more hydration, a hair treatment or even a beard oil.  
*if irritation occurs then discontinue use. Not to be used as a lubricant.