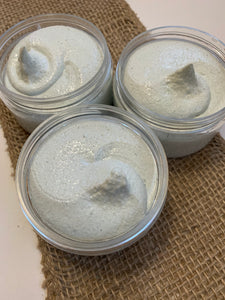 Peppermint & Pumice Foot Scrub
Get those feet summer ready! Peppermint and pumice foot scrub and the scrubbiest scrub that we offer.  It is very abrasive with super fine pumice stone and fine grind sea salt.  This will leave your feet super soft, by exfoliating away dead/dry skin.  Not recommended for other body parts or face.  As it can irritate more delicate skin. Leave this for the feet, and find other great products for your face and body.  


Use within 12 months from opening 
Ingredients - Glycerin, Aqua, Sodium Cocoyl Isethionate, Cocamidopropyl Betaine, Propylene Glycol, Stearic Acid, Butyrospermum Parkii (Shea Butter). Mica, Peppermint Essential Oil, Kaolin Clay, Pumice, Sea Salt.